Siltech offers two major classes of quaternary compounds:
1. Silicone Dialkyl Quats
2. Silicone Polyether Fatty Quats
---
1. Silicone Dialkyl Quats
Where the alkyl group can range from C1 to C18. These are 70% active in hexylene glycol, except as otherwise noted. The dialkyl quats are substantive to fibres, are non-yellowing and provide softness, lubricity and anti-stat properties in textile applications. They also provide water repellency to glass and automotive surfaces.
Multi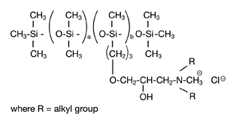 Linear

---
2. Silicone Polyether Fatty Quats
Where the fatty group can range from lauric to stearic.

Silicone Polyether Fatty Quats

[TOP]
Silquat AD
Silquat AC
Products

Silquat AC

These products provide lubricity and softness to fibres. The water solubility can be varied according to the ratio of silicone, polyether and the molecular weight of the alkyl group. Compatible with anionic systems. Provides outstanding conditioning and anti-stat for 2-in-1 shampoos. Does not adversely affect foam. Silquat AD and AC are 40% active in the water.
View Material Safety Data Sheet
View Technical Data Sheet

Silquat AD

These products provide lubricity and softness to fibres. The water solubility can be varied according to the ratio of silicone, polyether and the molecular weight of the alkyl group. Compatible with anionic systems. Provides outstanding conditioning and anti-stat for 2-in-1 shampoos. Does not adversely affect foam. Silquat AD and AC are 40% active in the water.
View Material Safety Data Sheet
View Technical Data Sheet